Home sales scored another record in September and prices were up by double digits. There was an unexpected drop in inventory (compared to August) which was partially due to a sharp decline in new listings in some major suburbs.
New Listings Plummet in Popular Suburbs
We saw a sharp drop in new listings in a number of popular school districts and suburbs. Below you can see a few of them: decrease in September as compared to the same month a year ago:
Dublin School District: -44.6%
Hilliard School District: -33.3%
Powell: -36.0%
Olentangy School District: -12.1%
Overall, new listings are still 4.5% higher than a year ago, but they are far below their July peak.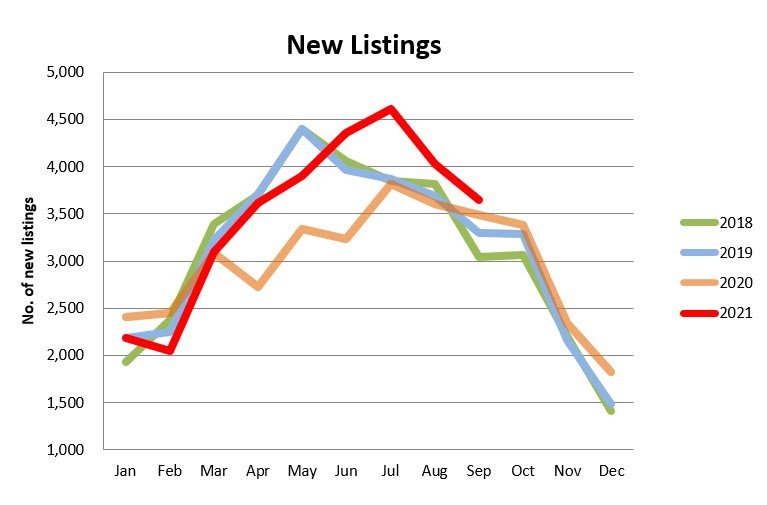 Inventory Drops Once Again
A rise in homes sales and the lack of new listings resulted in a somewhat surprising drop in inventory. I anticipated that the listing inventory would rise for the next two months, but that did not materialize.
Conventional Loans Dominate
The majority of buyers (63.6%) use conventional financing to purchase their homes. This is 24 percentage points higher than 10 years ago and speaks to the high quality of borrowers.
Cash transactions only accounted for 20% of all sales in 2021.
Housing Stats for September 2021
Here's a summary of home sales data for September 2021 as reported by the Columbus Association of Realtors:
Closed Transactions – 3,592 – UP by 5.8%
Inventory – 3,152 – UP by 12.5%
New Listings – 3,649 – UP by 4.5%
Days on Market – 14 – DOWN by 33.3%
Average Sales Price – $301,572 – UP by 8.5%
Average Price / Sqft – $1​67.2​4 – UP by 11.5%
Go to Columbus Realtors to see the full report.
​Get the Latest and Most Current Housing Charts
Head over to my website to see up-to-date charts of all relevant housing data!
Click the buttons below and bookmark each page!
Monthly Housing Stats
Weekly Market Updates
Are You Planning to Buy or Sell in the next few Months?
Call or Text me NOW at (614) 975-9650!