In October, we saw an unusually sharp increase of pending contracts, while home closings dipped a little. New listings are on the rise; however, the inventory remains at historic lows.
Here are the details …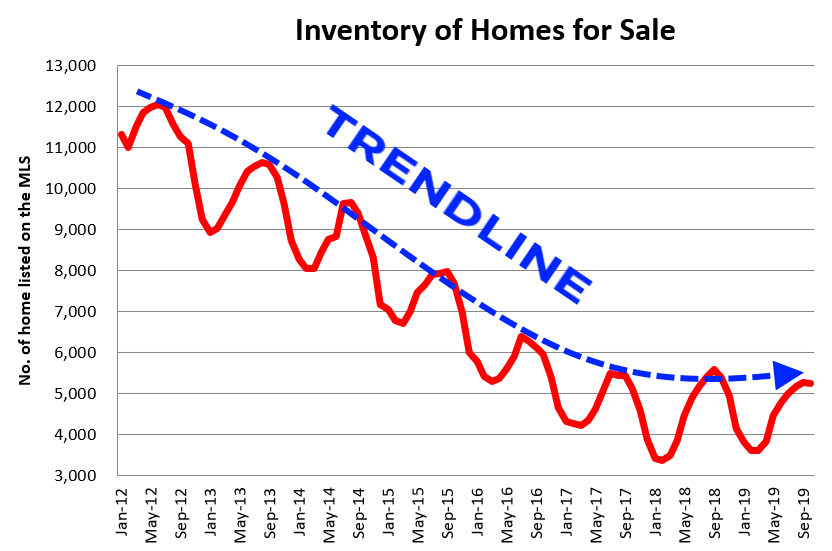 Inventory Below 2018, but Stable
The inventory of homes for sale has been at historic lows for a while. The chart above indicates that it has bottomed out. Unfortunately, the inventory is not rising due to strong buyer demand.
More homes were listed for sale in September and October. This trend will probably continue next year, as homeowners realize that home values may have reached their peak.
So far, the growing number of new listings has no effect on the stubbornly low inventory.
Gap Between Contracts and Closings Widens
Over the past 3 months I noticed a growing gap between pending contracts and closed transactions. Contracts have increased by 6.6% in October (that's on top of a 7.8% gain in September).
At the same time, closed transactions are down by 1.2%. That's not a lot, but the gap is widening.
​Based on the number of pending contracts sales should have increased. They did not. I believe a rising number of contract cancellations may be to blame for the gap.
Average Sales Price Keeps Rising
The average price of homes sold remains at 6% above last year's values. That's a solid gain and a consequence of low inventories and high demand.
Home values have increased all over town. We see the strongest gains in the $150,000 to $200,000 price range. Those are the homes many first-time buyers can afford. There's a lot of competition and only few listings to choose from.
October 2019 Housing Stats
Click this link to see detailed October 2019 Housing Data.
Here are the highlights (numbers compared to the same month a year ago):
Closed Transactions – 2,709 – DOWN by 1.2%
Pending Contracts – 3,258 – UP by 6.6%
Inventory for Sale – 5,254 – DOWN by 2.8%
New Listings -3,285 – UP by 7.4%
Days on Market – 31 – DOWN by 6.1%
Average Sales Price – $239,729 – UP by 6.3%
​​If you are thinking about selling next year call or text me TODAY at (614) 975-9650. You don't want to miss out on the buying rush in early 2020!