The housing market kept rallying throughout fall. We are on track to set a new sales record in 2020.
Residential sales were up by 12.7% in November when compared to the same month a year ago, and the average sales price jumped by 15.3%.
With low interest rates boosting affordability, luxury home sales significantly outperformed the average market.
Million dollar sales surged by 137.5% in November. This means that more than twice as many million dollar homes sold than a year ago, and their average sales price increased by 28.8%.
Luxury Home Sales More Than Double
In the Columbus MLS, a total of 200 homes sold for $500,000 or more in November 2020. That's only 6.8% of all transactions.
The chart below shows how sales of the most expensive homes have surged in November. The four columns represent homes worth
above $500,000,
above $700,000,
above $900,000, and
above one million dollars.
Only 0.6% of home sales were above a million dollars, a 137.5% increase from last year.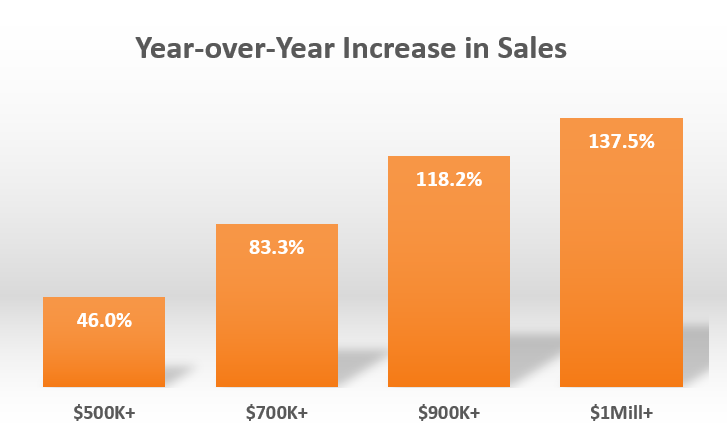 Luxury Home Values Are Rising Higher
The average sales price of the 200 homes worth more than $500,000 was $712,718, a 10.8% increase over last year.
The average price of million dollar homes on the other hand was up by 28.8%, indicating a significant trend towards more expensive home sales in Columbus.
Here's how the average price increased in the different segments.
What This Means For You
The luxury market has surged due to:
Covid: most families need more space as parents work from home and kids learn in a virtual classroom setting on their computer.
Low Interest Rates: with interest rates below 3% upscale homes have never been more affordable.
Available Supply: there are more luxury homes available for sale than regular priced homes, and you always can build new for over $500,000.
I anticipate that the high-end market will continue to thrive in 2021. If you own a luxury home this is your best opportunity ever to sell for top dollar!
Do you have any thoughts of buying or selling? Give me a call at (614) 975-9650!
November 2020 Housing Stats
Here are the November numbers (compared to the same month a year ago):
Closed Transactions – 2,777 – UP by 12.7%
Inventory for Sale – 2,591 – DOWN by 45.3%
New Listings – 2,342 – UP by 8.3%
Days on Market – 20 – DOWN by 39.4%
Average Sales Price – $269,391 – UP by 15.3%
You can download the full report at November 2020 Housing Data. 
​COVID Resource Page Updated for Fall 2020
For detailed housing stats and weekly updates please go to my Covid-19 Resource Page.
You will discover how showing requests have leveled off in December while pending contracts are still 15% higher than last year.