The Columbus housing market was buzzing during the month of October.
Home sales were up by 5% and pending contracts were 11.6% higher than a year ago. Buyers who missed out during the spring selling season are taking advantage of less competition while interest rates are still at historic lows.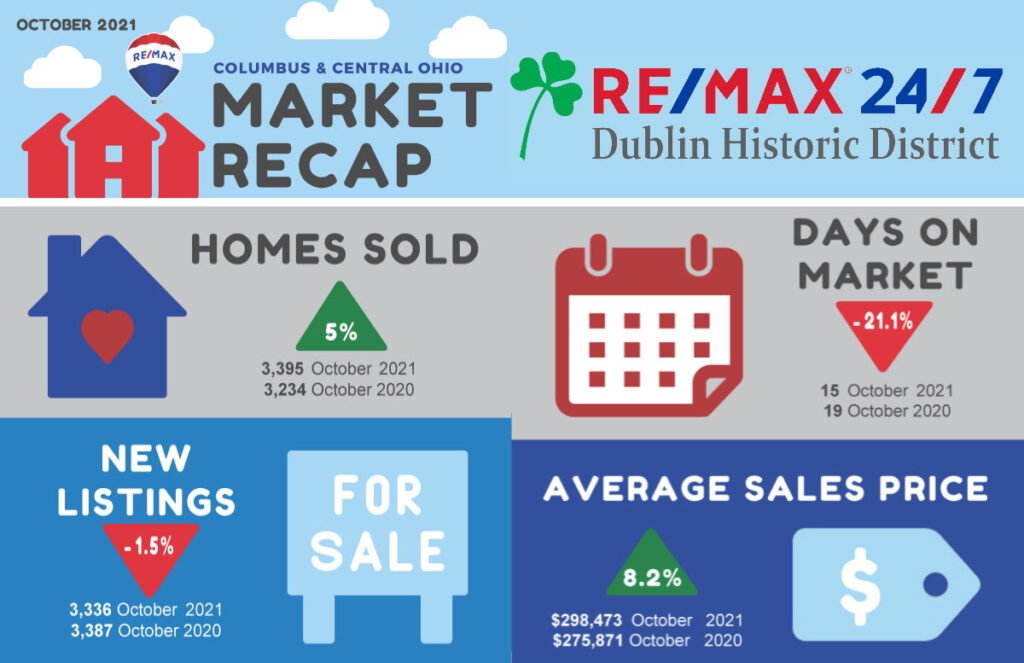 New Listings and Inventory Keep Falling
Unfortunately, most homeowners are holding off from selling. New listings dropped by 1.5% year over year, which led to the inventory of active listings plummeting by 8.6%.
Only 2,950 homes were listed for sale on the MLS at the end of October.
Days on Market
It took an average of 15 days from listing to contract in October.
Homes under $350,000 sold at an average of 13 days. Homes over $700,000 were on the market for only 32 days, a new low record.
There's a strong demand for upscale homes in today's low inventory market.
Recommendations for Buyers
If you are planning on buying a house in 2022 you should start NOW:
Interest rates will certainly increase next year. Some experts predict 4% by the end of 2022 (currently, mortgage rates are around 3.25%).
We expect buyers will begin house hunting earlier than in previous years. Don't wait until March! Start house hunting now while other buyers prepare for Christmas.
I expect a lot of buyer competition as early as January or February.
Recommendations for Sellers
You may have been on the fence about listing your house. Don't wait until spring. You are better off catching the first wave of buyers early in the year.
While there will be a lot of demand next year, we don't expect home values to increase by double digits again.
Give me a call NOW at (614) 975-9650, so I can get you on my listing calendar for January or February.
If you are not listing because you are afraid you won't find a new home, I've got you covered. It's easier buying during the winter months than next spring.
You may even catch a "bargain" from a builder if you sign a contract before the end of the year.
Housing Stats for October 2021
Here's a summary of home sales data for October 2021 as reported by the Columbus Association of Realtors:
Closed Transactions – 3,395 – UP by 5.0%
Inventory – 2,950 – DOWN by 8.6%
New Listings – 3,336 – DOWN by 1.5%
Days on Market – 15 – DOWN by 21.1%
Average Sales Price – $298,473 – UP by 8.2%
Average Price / Sqft – $1​6​5.31 – UP by 10.5%
Go to Columbus Realtors to see the full report.
Get the Latest and Most Current Housing Charts
Head over to my website to see up-to-date charts of all relevant housing data!
Click the buttons below and bookmark each page!
Monthly Market Updates
Weekly Market Updates
Are You Planning on Buying or Selling in 2022?
Call or Text me NOW at (614) 975-9650!
Click the image below for latest video article!